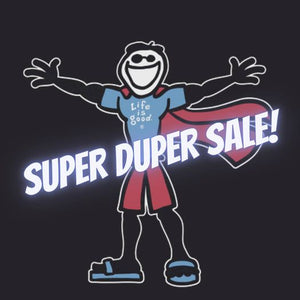 We know you've been waiting for it all year long... Our SUPER DUPER SALE is almost here! Coming Sunday, February 12th, our in-store sale features 55% off EVERYTHING! Sale hours are from 12-4pm.Can't make it in person? Our ONLINE sale starts at midnight Monday (that night) until midnight Wednesday. 2 days only! The online shop will be closed during the in-store sale. Pre-shop at lifeisgoodwestport.com and make your shopping list!See you soon!
---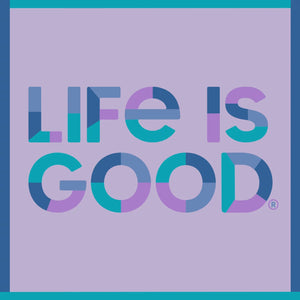 In 1989, Bert and John Jacobs designed their first tee shirt. They knew nothing about the business. For five years, the brothers hawked tee shirts in the streets of Boston and traveled the East Coast, selling door-to-door in college dormitories.They collected some good stories, but were not very prosperous. They lived on peanut butter and jelly, slept in their van, and showered when they could.Chicks were not impressed. Original Jake drawing, July 1994 By the Fall of 1994, heading home from a long, less-than-fruitful roadtrip, Bert and John were desperately searching for answers to keep the dream alive. Little did...
---
December 28 10am-4pm December 29 10am-4pm December 30 10am-4pm December 31 10am-3pm January 1 CLOSED Winter Hours for January and February Open Friday, Saturday and Sunday
---
For all of the news and photos from our recent Westport Holiday Shop 'N Hop weekends, please click the link to What's On Westport for the full report. http://www.whatsonwestport.ca/blog/
---
We hope you have your calendar marked because this weekend is the annual Holiday Shop N' Hop! Friday, December 2nd (PJ Party): *Open until 8pm. Loot Bags for the first 50 customers. *$20 Gift Card for EVERY $100 spent. (Gift Cards applicable to purchases starting December 4th.) *Entry into our weekend draw for a $250 Gift Card. Saturday, December 3rd: *Entry into our weekend draw for a $250 Gift Card. Life is Good!